Product has a data sheet (PDF)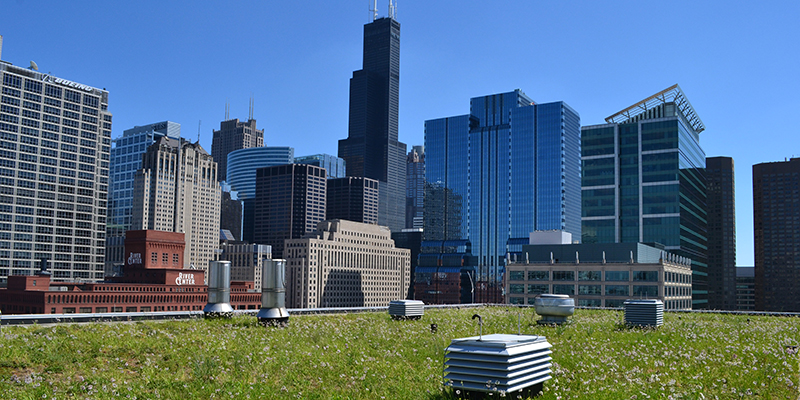 Green Roofs
Green Roof Solutions carries green roof products for a variety of roof membranes and green roof types. Click below for more information on our products, organized by green roof type. If you're looking for something else or are unsure what products you need for your next green roof project, please contact us.
Extensive/Intensive/Semi-Intensive
These green roofs include "typical" thin, extensive systems with sedum plants to more intricate green roofs with greater growing media depth and larger plants.
Extensive Green Roofs are the most popular option for those looking to manage storm water with minimal cost. These systems are generally planted with sedums, a hardy species able to withstand drought conditions. Depending on your location and the design details, an extensive green roof may be as shallow as 3" or as deep as 6".
Intensive and Semi-Intensive Green Roofs are distinguished from extensive green roofs by the variety of plant life they are able to support. Being deeper systems, they are able to support a wide variety of plants including grasses, shrubs, and even trees. These systems are often designed as gardens meant for enjoyment by people, as well as for storm water management.
Sloped Green Roofs
Think green roofs are just for flat roofs? Think again! Control erosion and create stunning sloped green roofs. Don't let flat roofs have all the fun! Green Roof Solutions' slope stabilization system creates a strong base for your sloped green roof. This system is designed to retain green roof media without impeding on the flow rate of the green roof.
Rooftop Farms

Grow food on your roof! These products are for everyone from home gardeners to commercial rooftop farms.
Elevate urban farming and take to the roof! Growing on a rooftop takes special consideration, though, so make sure you protect against leaks and damage with the necessary components. We have everything for a safe, long lasting rooftop farm or garden. Make sure you are protecting your roof, so you can continue to grow!
There are some obvious considerations you need to make before growing food on your roof, such as how much weight your roof can hold, but you may not be thinking about the roof itself. Avoid costly repairs, potential issues with a landlord, and make sure your rooftop farm or garden is built to last.
What kind of roof are you working with? Each type has specific properties that require different kinds of protection. For example, some roofs can stand up to plants' roots, others need the protection of a root barrier. Green Roof Solutions can help you be sure the roof is protected properly.
View our standard green roof materials for options that are also used with our rooftop farming products.