living wall

gallery

Some of our favorite living wall projects from around the country.

Product has photos.

Product has a data sheet. The data sheet will download in PDF format.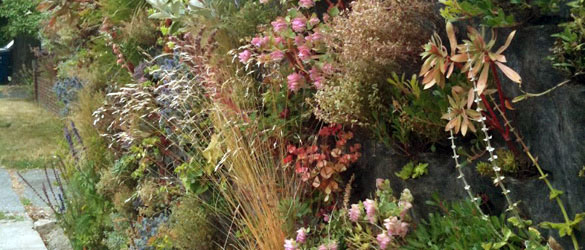 Green Roof Solutions MRM products are some of the most popular products we offer. Our non-organic (won't decompose) moisture retention mats are the choice of DIY-ers and general contractors alike. Using 100% recycled material, our MRM is a zero-footprint product. It stores water and allows for root growth, acting as a growing medium in media-less installations. Living wall installations are experiencing a surge of growth around the world, and our MRM14 and MRM30 are the materials of choice. MRM use in living walls is inspired by Patrick Blanc-style vertical gardens. For order sizes, be sure to remember that most living wall designs call for a front and back sheet of MRM, so you might need double the material.
The highly retentive qualities of this fabric provide a slow, evaporative release of moisture for living wall plants. GRS MRM is a specially designed, needle punched fleece made of 100% recycled polyester and polypropylene fibers. GRS MRM comes in two weights, 18 oz. and 30 oz.
MRM14 is our 18-oz. fleece offering that is a cost-effective method of installing a living wall. At 3/16" thick, MRM14 retains 0.123 gallons of water per square foot and allows that water to be released back through the living wall system via evaporation.
MRM30 is our 30-oz. fleece that is often used in hydroponic living wall systems to add additional water retention and rooting area. MRM30 is 3/8" thick and holds 0.201 gallons of water per square foot. MRM30 holds roughly double the volume of water available to plants as MRM14.
Both the MRM14 and MRM30 come in the following sizes:
| | | |
| --- | --- | --- |
| Sizes | | Dimensions |
| 453 sq. ft. | | 65" x 84' |
Custom sizes less than 453 sq. ft.: 65" x custom length
Photo courtesy of Pam Moore, Seattle, WA.