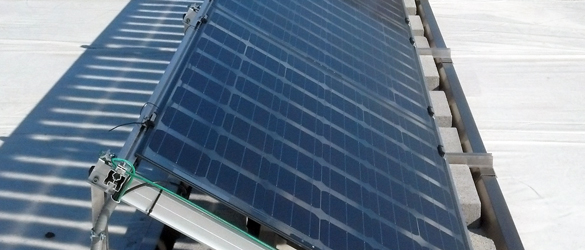 PoweRoof Solar
The concept is simple and straight forward. PoweRoof's high efficiency bifacial solar panels generate an additional 30-40% more power due to their ability to produce solar energy from both sides of the panel. PoweRoof combines bi-facial photovoltaic panels and Energy Star rated reflective single ply membranes, thus qualifying with the IRS to harvest combined federal tax incentives and advanced depreciation schedules. When PoweRoof panels are combined with an Energy Star rated, highly reflective, single ply membrane, the IRS rules that the roof membrane acts as part of the solar array and thus is eligible for the same federal favored tax treatment afforded to solar equipment.
This brings the typical rooftop solar return on investment (ROI) into the 3-5 year range, without the use of state, local or utility incentives, often required for traditional rooftop solar approaches. While these additional incentives can and will be used, if available, they are not required to finally solve the rooftop solar ROI challenge. In areas where traditional rooftop solar has worked marginally, PoweRoof works even more successfully, forcefully driving down the ROI for solar power to historic lows.
This combination of benefits makes PoweRoof the perfect commercial solar panel solution for buildings and businesses that are already required to meet reflectivity standards to prevent the urban heat island effect.
By changing the standard concept of how solar panels work, PoweRoof panels are able to capture energy that would otherwise have been wasted.
These solar panels are built to outlast the competition; manufactured using a tempered glass-on-glass design, they are hermetically sealed to protect the solar cells from external damage. Compared to multilayer back sheets the glass-on-glass structure is significantly stronger and reduces the possibility of mechanical damage over the 30+ year expected lifetime of the panels. PoweRoof solar panels have a standard 1" hail at 52 mph rating, internal testing has shown them to be able to withstand much greater force.
These high efficiency solar panels are proudly made in the USA.
For more information use the form below to contact us.